Reviewing and Commenting on Presentations
Collaboration requires communication, and the Review and Comment Feature in Zoomifier allows users to communicate with each other by adding, replying and resolving Comments directly in the CustomShow Slide Editor.
When working on a presentation in the CustomShow Slide Editor, you can click on the Comments icon on the right-hand toolbar to open up the Comments Panel at any time.
You can add comments in two ways:
To comment on the slide overall, click on the Add Comment button at the top of the Comments Panel to add a new comment for that slide.
To comment on a specific element on a slide, right-click on the target element and choose Add Comment from the context menu.
You can tag another Zoomifier User in your comment to notify them of your comment or request an action from them. Using the "+" or "@" symbol allows you to select a Zoomifier User from the User List; just start typing their name or email address to select.
When you tag a user in a comment, two things happen:
An email is sent to the tagged user with the text of your comments and a link to directly open the slide you commented on in the CustomShow Slide Editor.
The tagged user is added as a Collaborator to the current presentation if they were not already added as a Collaborator.
Elements with comments attached to them have a small yellow Comment Icon on them that is visible in the Slide Editor (but not visible when presenting). Users can click on the yellow Comment Icon to highlight the relevant Comment in the Comments Panel on the right.
Users can Reply to existing comments by clicking on the Reply button or Resolve a comment by clicking on the Green Checkmark icon to mark the Comment as Resolved.
Clicking on the Trash Can icon Deletes the Comment. Only the user who created a Comment can Delete that Comment.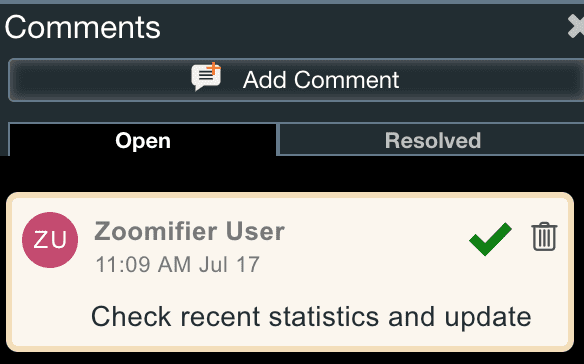 Resolved Comments can still be viewed by clicking on the Resolved tab in the Comments Panel and can be Reopened if additional work still needs to be done. Reopened Comments return to the Open tab in the Comments Panel.