Setting Up Individual Email Settings
If your organization does not support DKIM/SPF Email Integration with Zoomifier (or if your individual email address uses a different email domain than the rest of the organization), you can still set up Zoomifier to send emails on your behalf.
In the top right-hand corner of your window you will find the "Settings" menu option.

Click on "Settings" to open up the Settings window.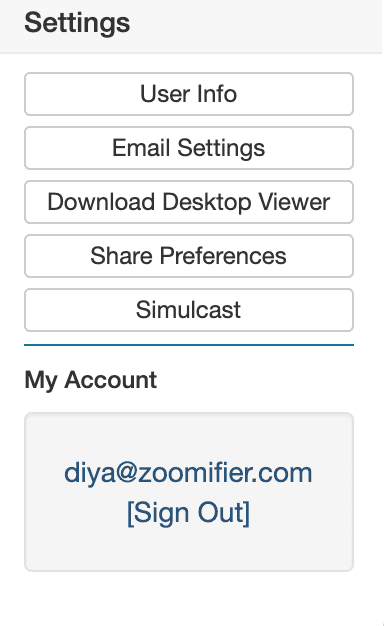 Click on the "Email Settings" button to configure your email details.
You will need to provide the SMTP Host and Port Number.
You will also need to provide your email address and the password for that email account.
Click on the "Save" button.
Why do I need to do an Email Setup?
Once setup, any email that you send from the system will come directly from your email account and not as a system-generated email. This greatly increases the chances of the email being opened and read.
I am getting an error during the email setup, even though I have provided the correct information?
Please  contact your System Administrator for further assistance. There may be changes needed to system settings that only your System Administrator can modify.