Welcome to Zoomifier! We're here to help you get started using Zoomifier to engage your customers and close more deals.
This "Getting Started" Quick Start Guide will help you access and log into your Zoomifier account, set up your account, and walk you through the Zoomifier landing page.
Below is a short video guiding you as you access your Zoomifier console.
Logging into Zoomifier
The URL to access Zoomifier is https://engage.zoomifier.com
Enter your Email Address and Password for your account and click on the "Login" button. If you don't remember your password, you can always click on the Forgot Password? link to reset it.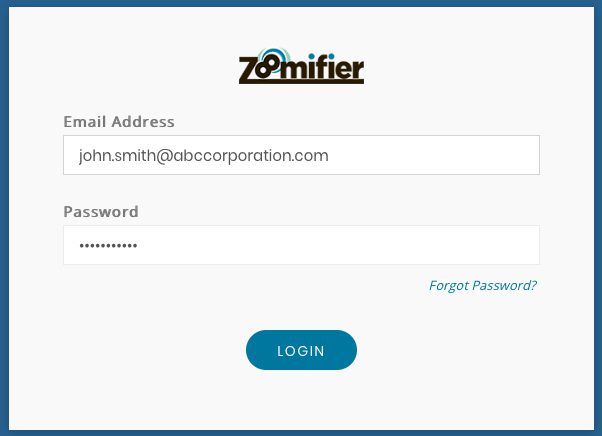 Once you log into Zoomifier, the first screen you'll see is the folder directory of the content you have access to (similar to the screenshot below).
The folder structure will be personalized to your organization, therefore the folders you see on your screen may not match the image above. The "My Work" folder, however, is a standard folder for all clients, and at the very least you will see this folder when you login.
Setting Up your Settings
Each of these menu options will be covered in detail in the relevant guides. To give a brief overview:

Simulcasts : Schedule and start live remote presentations
Content : View your content directory
Contacts : View and manage your list of contacts
Analytics : View analytics on presentations that you have shared
Settings: Personal settings for your account
Click on "Settings" to open up the Settings menu.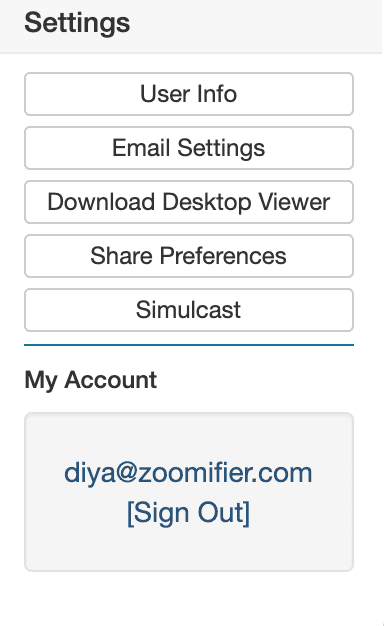 User Info: Reset your password as needed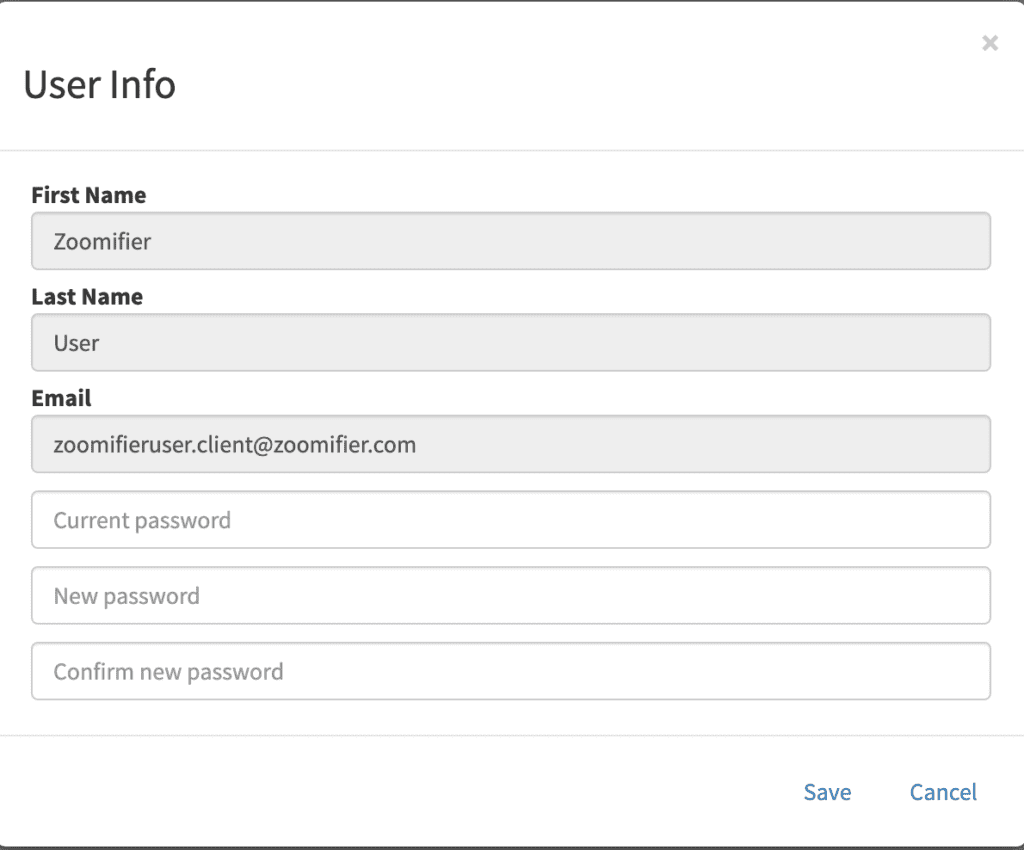 Email Settings: Only used for individual email setup. Most organizations will have your email information set up centrally, so please contact your IT team for assistance before entering any information here.
Download Desktop Viewer: Download the latest version of the Mac or PC Desktop Viewer App for offline presenting. May require Administrator permissions to install on your computer.
Share Preferences: You can set the following preferences for how your account shares content with clients and prospects (depending on your company's settings you may not have access to all options):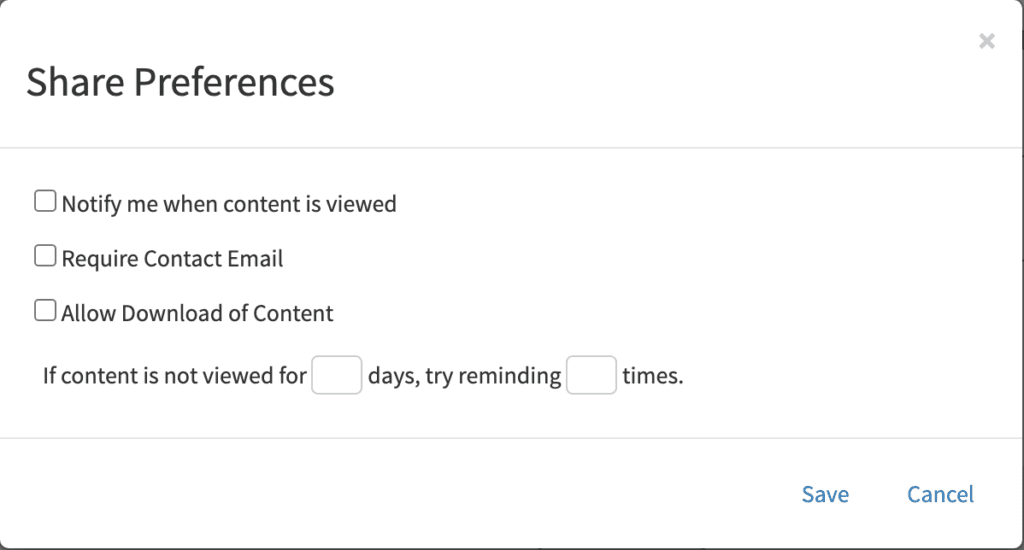 Notify me when content is viewed: Check this option to receive an email notification every time someone clicks on a Zoomifier link that you've sent out.
Require Contact Email: Check this option to require all viewers to enter an email address before viewing content.
Allow Download of Content: If available, allows Viewers of your content to download that content by clicking on the Download Icon in the upper right corner of the Viewer window.

CustomShow Presentations download as static PDF files.
All other media types download the original media file.

If content is not viewed…: This applies to content that you send using the Share function where you have entered a client or prospect's email into the Share window to send a content link. Enter number of days and number of times to send automatic email reminders to your client or prospect. Once the specified number of days has passed without the recipient clicking on the link, Zoomifier will automatically send a Reminder email with the link.
FAQ
What are the browsers Zoomifier supports ?
Google Chrome is our recommended browser on all platforms. Zoomifier also supports Mozilla Firefox, Apple Safari and Microsoft Edge. Microsoft Internet Explorer is NOT supported.
What devices can I download the Desktop Viewer on?
Windows and Mac OS computers.
Tips
This will create a pin/shortcut just below the Google search bar, taking away the need to type in the URL the next time you access your Zoomifier account.
Tip : To make accessing your Zoomifier account easy. Create a shortcut for the link. For example, if you are using Chrome once you have opened the Zoomifier login page, click on Window, and select Pin Tab.
Next Steps
Now that you know how to login and have done the basic setup, it's time to start using the system! To learn the first few simple and impactful things you can do in the system, you can go through the "Presentation Library Quick Guide"
Haven't found the answers you are looking for?
You can always reach us at support@zoomifier.com or 800-255-5303.